ENSEMBLE AWARD WINNER 2016 – FESTSPIELE MECKLENBURG-VORPOMMERN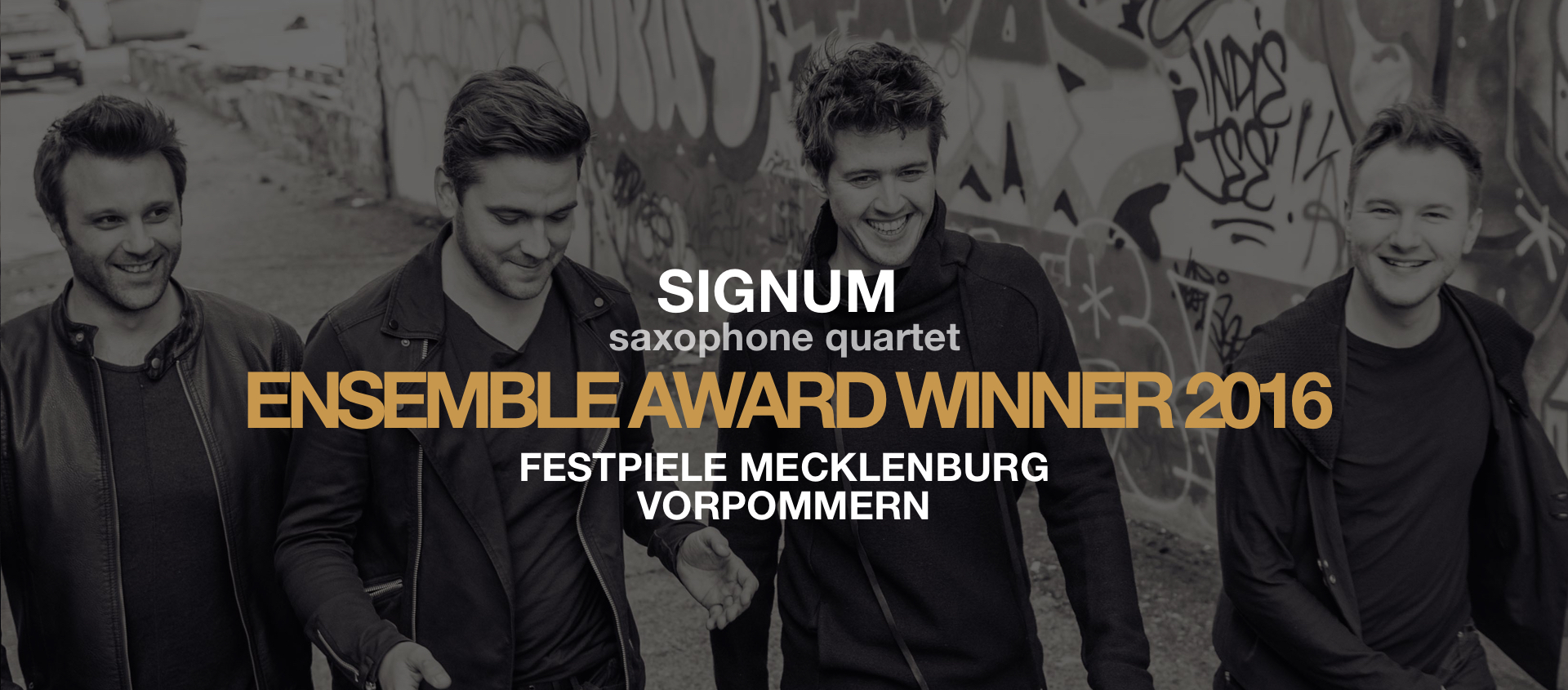 Liebe Freunde, wir sind sehr berührt und möchten gerne eine tolle Neuigkeit mit euch teilen:
ab heute steht fest, dass wir bei den Festspielen Mecklenburg-Vorpommern mit dem Nordmetall-Ensemble-Preis 2016 ausgezeichnet sind!
Wir empfinden wir tiefe Dankbarkeit und blicken in die Vergangenheit:
angefangen mit dem ersten Konzert für 2 Leute (hat gerade so für ein Big Mac-Menü gereicht), aus Wien nach Köln über Nacht mit zwei Taschen umgezogen, Teller im Restaurant gespült und noch viel Monat am Ende des Geldes!
Aber es fiel uns all das nicht schwer, weil wir immer an die Magie der Musik und unsere Freundschaft geglaubt haben.
Wir möchten uns bei allen bedenken, die an uns geglaubt haben und diesen Traum mit uns leben.
Speziellen Dank an das Team der Festspiele Mecklenburg-Vorpommern für das Vertrauen in uns, an Alex und Franco für die tägliche Unterstützung und an unsere Freunde und Familien.
Wir freuen uns sehr über die Auszeichnung und auf viele spannende Projekte mit den Festspielen Mecklenburg-Vorpommern in Zukunft. Das beehrt uns noch mehr, weil zu den früheren Preisträgern unter anderem das Quatuor Ébène, das Belcea Quartet und das Fauré Quartett gehören.
WIR FÜHLEN UNS GEEHRT UND SIND VOLL TIEFER DANKBARKEIT.
Dear friends, we are deeply touched and would like to share some great news with you:
we were awarded with the Nordmetall-Ensemble-Preis 2016 from Festspiele Mecklenburg-Vorpommern in Germany.
We are delighted and thankfully look back into our past:
first concert for just 2 people (which was actually just enough for a Big Mac menu), moving from Vienna to Cologne overnight with just 2 bags, cleaning dishes in a restaurant and to much month left at the end of our money!
But all that was never tough because we always believed in the magic of music and our friendship.
We would like to thank everybody who believed in us as well and living this dream with us. Special thanks to the team of Gespiele Mecklenburg-Vorpommern. Alex and Franco for their daily support and to our friends and families.
We are happy about this award and are looking forward to exciting projects with Festspiele Mecklenburg-Vorpommern in the future. It is an honor becoming a part of the family with earlier laureates as Quatour Ébène, Belcea Quartet and Fauré Quartet.
WE FEEL HONORED AND THANKFUL.